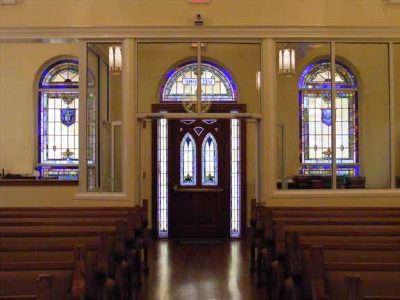 Who Are We
WJUMC is a community united around Jesus Christ. We come from all walks of life, young and old, believers and skeptics, wealthy and not, and we are open to new and innovative ideas for being and doing "church." Ultimately, we find our unity and love for one another in our faith in Jesus Christ. While most of us are Methodist, we are open to those of other denominations as brothers and sisters of Christ. WJUMC personally commits to the seven practices that lead to deeper discipleship: Prayer, Scriptural Meditation, Corporate Worship, Small Group Communities, Gifts-based service, Financial Generosity, and Invitational Evangelism (Prayers, Presence, Gifts, Service, and Witness). We believe that God loves his creation, so much so that he gave His son Jesus Christ to dwell among us and to die so that our sins may be forgiven.
Through worship, fellowship, education, and service, we make our witness to the community and the world.
History
WJUMC has been a part of this community since 1921. We continue to serve West Jefferson and the surrounding area with new buildings and facilities that encourage spiritual growth of children and adults. In 2008-2009, we undertook a complete renovation and expansion that now includes space for a pre-school and community gatherings as well as more classrooms for Christian education.
More Detailed History
As the story (told by Daniel Burkett) goes, a group of Methodists in Ashe County first met outdoors at the home of George "Paddy" Bowers under an oak tree sometime in the 1820s. The reverend James Hurley was the pastor. The meeting site is thought to be somewhere near the present town of West Jefferson, at the bottom of "Paddy Mountain," which forms the backdrop for the town today.
West Jefferson United Methodist Church (WJUMC) was started in the winter of 1921 when an organizational group met with Rev. T.E. Wagg at the home of Mrs. James Allen. The first meeting of the "Church" took place at J.E. Shumate's Theater on April 20, 1921, with the following folks in attendance: Mr. and Mrs. Faw, Mrs. Graybeal, Jennie Graybeal (Daughter), Mrs. Edgar Jones, Mrs. Nora Kirby, Mr. T.E. Parker, Mr. J. A. Roland, Mr. and Mrs. J.L. Seagraves, and Mr. and Mrs. James Allen. Sunday School was held at the "School House."
The land that the current church sits on was purchased, and a small (temporary) building was erected. The Rev. J.L. Reynolds of the Jefferson Charge took over for Rev. Wagg in the Spring of 1921. The Sanctuary Building, as we know it, started in 1927 and was completed in 1930. Bishop Paul Kerns dedicated the building on September 27, 1934.
At the Annual Conference of 1937, the church became a stand-alone charge with a full-time pastor (Jack Honeycutt). A small building on the adjoining property, acquired from the Gilley family, was used for three years as the Sunday school. In 1938 an eight-room parsonage was completed on N. Jefferson Ave.
On March 27, 1955, the congregation broke ground for the new educational building, which was completed in February 1957. It was dedicated in May 1958. The pulpit and choir loft were remodeled, and the educational building and renovations were dedicated in 1958.
In 1968 Mr. and Mrs. James Hensley donated a lot on Wade E. Vanoy Road for a new parsonage. It was first occupied by Rev. R. W. Walters, his wife (Catherine), and their three children.
In the year 2000, the West Jefferson United Methodist Church became the beneficiary of a major financial gift. Through the generosity of the late Mr. and Mrs. James B. Hensley who were dedicated members of this church.
Under the leadership of Pastor Hayward Morrison and by the decision of the Board of Trustees the Davidson property was purchased and developed as a parking lot.
After the appointment of Kirk McNeil as interim pastor, and with the Hensley funds, the West Jefferson United Methodist Church began to make a difference in Methodism in Ashe County.
A group residence for mentally and physically challenged adults was built. (2003) The home is known as a the J.B. and Elizabeth Hensley Home. Funds were provided for scholarships and other worthy causes.
2002 and 2003 was like the birth of a new church. Membership grew, the parsonage on Wade E. Vannoy Road was completely renovated and updated with air-conditioning and new furnishings as needed.
May 16, 2004, the 11:00am worship service was suspended, and a church business session replaced it. The purpose of this meeting was to explore the possibility of renovating the existing building and adding needed space.
Rules regarding church building and funding processes from the Book of Discipline (the book that guides the organization and ministry of the United Methodist Church) were explained and a survey was taken to determine the desire to move forward with a building program. Very few people dissented.
A time frame for the building process, the completion and the financing of said project was presented and approved. All the projections were met! The West Jefferson United Methodist Church had a completely renovated original building and the usable space had been doubled. Praise the Lord!
The interim past, Kirk McNeil was appointed to serve from 2001 to 2010. His pastorate bore the fruit of great success. The membership and participation increased while he was here.
The building project included space for a pre-school day care center. This was implemented in 2018-19. Enrollment stands at 22 children and 4 staff members.
The Covid epidemic of 2020 has challenged the church with attendance as it has many churches.
2022 presented a process to determine if the West Jefferson United Methodist Church had a desire to disaffiliate with the United Methodist Church. The congregation voted 67 to 35 to remain affiliated with the United Methodist Church.
Reverend Christopher (Chris) Hughes joined our church in December 2022 as the interim pastor.
Heritage
While the history of church property is one aspect of our heritage, the most significant dimension of who we are has come through the lives of generations of people in a relationship with God and each other through faith in Jesus Christ. Through worship, fellowship, education, and service, we have sought to make our witness to the community and world.
Mission
The mission of WJUMC is to follow Jesus to nurture disciples of Jesus Christ for the transformation of the world. This transformation emerges when we join Jesus in his "kingdom come on earth as it is in heaven" mission as co-missioners in serving our community and responding to needs both near and far away.
Vision
We envision a Christ community fully realizing our mission to follow Jesus, make disciples, and actively cooperate with God in transforming the world, so God's kingdom would come on earth as it is in heaven. We will do this by deepening our discipleship, our fellowship of Jesus, and finding our place in the ministry of all Christians. We will engage our community in service and mission in response to perceived needs and in partnership with community groups and institutions. We desire to be a beacon of God's active and unconditional love.
Worship
Our weekly worship service is at 11:00 am in our beautiful sanctuary. Our service features music led by our choir and a variety of soloists, ensembles, pianos, organs, and handbells. Preaching is positive and biblical. Worship includes a children's message. We celebrate Holy Communion on the first Sunday of each month, and we highlight the special seasons and Holy Days of the Christian year, including Advent and Christmastide and Lent and Easter. Our setting is inspiring, and our congregation is loving and welcoming. You and your family are welcome here!